🔓 This article is semi-protected to prevent vandalism. Register here to join our community and edit!
Zetas is the name attributed to abductors in UFO encounters worldwide, such as the Hill abduction case in the USA. The term "Zeta" came into use in 1951, referring to an operational unit of abductors. Zeta cannot be classified as a race or a species in terms of taxonomy.
The abduction of humans has been happening for millennia. Prior to 1951, the abductors were not known as "Zetas", but were given other identifications such as "Dero",[1] "Djinn", and "Jötunn" (See Acart). One of the Jötunn became a member of the Majestic 12 Group in 1947 to orchestrate the UFO situation for S4.
As part of Truman's psychological warfare program,[2] the Majestic 12 promoted the idea that UFOs were exo solar objects, coming from a completely different solar system,[3] namely Zeta Reticulum, a binary star system. Subsequently they named their Operational Detachment "Zeta" in 1951.
Detachment Zeta or Desprendimiento zeta conducted psychological warfare and abduction operations for the MKUltra program, significant to S4. Detachments were deployed in 1951 to the United States, the United Kingdom, Australia, and Mexico.[4]
Abductions
After the Guerrero Incident at 26.7777, -99.3391 on December 6, 1950,[3] Desprendimiento zeta was deployed to secure Tamaulipas, Mexico and the San Ignacio labs (San Pedro), Coahuila underground project (Mexico's Area 51).[4] Los zetas are notorious for conducting psychological warfare and abductions (See Mexamerica#Timeline note 1990).[5]
The Zeta program conducts abduction activities worldwide in every country, operating from underground military bases around the world. The agenda is to harvest biological materials. Zeta convey to their abductees that they are from the Reticulum (meaning "net" in Latin) system. The use of "Reticulum" is a paronomasia for harvesting a net in the alien trade market. By conveying to abductees that they are from an exoplanetary system, it downplays the number of zeta abductors.[4]
American researcher Len Kasten from NICAP has proposed a connection between alien/UFO abductions and human trafficking for the purpose of harvesting DNA, or other biological materials —usually for cloning, hybridization, and reproduction agendas[6] (Compare unethical human experimentation at Dulce).
The Zeta team who abducted Betty and Barney Hill extracted semen from Barney. When they were asked to describe their abductors, Betty described a "Grey", but Barney described his abductor as a human who spoke German. Read more about this case, and the hypnosis sessions at Alien Research Files, The Hill Abduction Files.
Zeta conspiracy
Main: Zeta conspiracy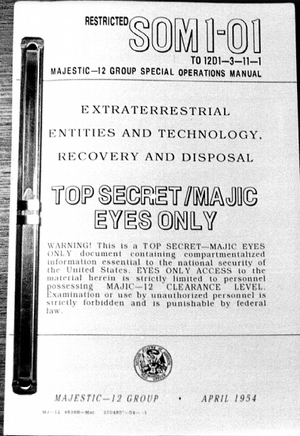 Donald H. Menzel, a member of the Majestic think tank, proposed that the UFO situation be explained as coming from an exo solar system.[3] By April 1954, SOM1-01 was published for select US servicemen to follow guidelines that happened to be a false flag for an "extraterrestrial presence".[7] The elements of SOM1-01 came from Harry S. Truman's psychological warfare program.[2]
Meanwhile, abductions by Zeta teams were being conducted around the world, with some of the first reports coming out of Brazil. Such as the abduction of Antonio Vilas-Boas on October 15, 1957 out of São Francisco de Sales, Minas Gerais. Also the abduction of Artur Berlet in 1958 out of Rio Grande do Sul area.
In the United States, the Hill abduction in 1964 revealed a strong false flag for "extraterrestrial" Zeta team abductions.
In 2005, Project Serpo was leaked to the public domain, revealing a joint US / Zeta program that involved Zeta teams moving mass groups of humans, enrolling them in an "exchange program". Volunteers haven't been seen again. The program served to conduct mass abductions of people in whole groups (See Serpo conspiracy).
References
Community content is available under
CC-BY-SA
unless otherwise noted.