Eric Davis meeting with VADM Wilson
Wilson UFO Leak pertains to an 15-page document containing a conversation, on UFO secrecy in the USG that was leaked in mid-2017. The conversation was between Admiral Thomas R. Wilson and physicist[1] Eric W. Davis in a secret meeting held on 16 October 2002. The papers are not necessarily a transcript, but "notes" by Eric Davis.
Wilson meeting notes contain a conversation between independent physicist, Eric W. Davis[3] and Admiral Thomas R. Wilson[4] at EG&G (

a US national defense contractor founded in 1947) regarding "alien" UFOs. The transcript was "leaked" on Imgur.com on Friday, 19 April 2019, at 11:18:32 EDT.[5] The Davis/Wilson meeting conveys Admiral Wilson's attempted internal shake-down after the release of the COMETA study by France in 1999, and Leslie Kean's subsequent coverage of that study in the United States, reported in the Boston Globe on 21 May 2000.[2] France's 1999 Cometa study had generated negative reactions and denial among politicians, US Congress, and military men from the Pentagon.[6] But after the Boston Globe had published Kean's story in 2000, 'you could hear a pin drop'.[7]
So what was Admiral Wilson doing during his time as director of the DIA from 1999—2002 during the COMETA revelation? According to this Wilson memo 2002, he was 'shaking the UFO tree' for information (while likely juggling the 9/11 issue at the same time). After all, he was head of the US Department of Intelligence Agency during this period. What did he get? Basically 'pie in the face'. This memo explains how even the DIA director, who supposedly has the "credentials" to acquire internal information, was basically shut down concerning the UFO subject, essentially because he "was not on the bigot list" (Wilson's actual expression used in the memo PAGE 11). So who was putting the 'pie in his face'?
Wilson (TW) says they "called themselves "the watch committee," or gate keepers" (PAGE 10)
Main: Cometa Report
Admiral Wilson points to a conversation between Oke Shannon and Will Miller[note 1] around April '97[note 2] which was a prior relation to the Boston Globe coverage by Leslie Kean,[note 3] concerning UFO crashed/retrieval (PAGE 1).[note 4] Kean's coverage was published in the Boston Globe in year 2000, known as 'the Cometa report' regarding France's three-year Cometa study on UFOs.
Notes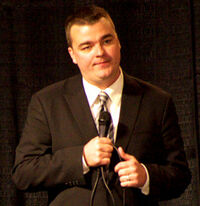 Researcher John Greenewald Jr. of The Black Vault, a personality who is knowledgeable about the television media world, likens the "Wilson leak" to a movie script, using the  Groundhog Day script as an example.[8]

The premise of Greenewald's Black Vault is to collect and archive UFO documents and to debunk them.

Rather than pointing out the implications of the Cometa Report from which the "Wilson leak" concerned itself, Greenewald says, 'Yeah, X-Files ended in summer of 2002, and the "Wilson notes" (drafted two months after) is looking for the next big television spot.'

Greenewald's explanation for the "Wilson leak"[8] proves that it's easier to deny UFO leaks and to call them hoaxes, than it is to wait for confirmation or validation. Once "Majestic 12 Document" of 1984 was branded a hoax, then all subsequent related MJ-12 documents were dismissed as hoaxes, such as Allen Dulles MJ-12 document, and Hillenkoetter Black Book.
| | | |
| --- | --- | --- |
| Greenewald's hypothesis | Episode 56 | Discussion w Alejandro Rojas |
Community content is available under
CC-BY-SA
unless otherwise noted.