Star Wars concerns a period of civil war that began from time immemorial reflected through a series of proxy wars to our present day, such as: Marduk versus Tiamat, Ahura Mazda versus Ahriman, God versus Satan, Allah versus Iblis, Allied powers versus the Axis powers (World War II), Euro-Atlantic Partnership Council (NATO) versus Axis of evil.
Allegiance
Allegiance to the Civil War requires the blood sacrifice of humans—a component during our age (period) of what this article names as Star Wars. The following are just a few examples of the complex nature of this constituency.
Solar Warden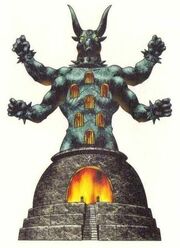 Around 1953 an alien presence was detected[Note 1] by major nations of the Cold War. At least 10 nations, members of the UN, communicated with this alien presence. Although we don't know its official name, the United States had once given it the codename: "Solar Warden" (good until 2002). Under the Eisenhower administration, US officials were led to believe that they were entering a "treaty"[Note 2] with the intent of exchanging resources with an "extraterrestrial" race. However—they were in fact, entering a contract with age-old Earth-based Supernormals, who have imposed the following on the USA:
The ancient practice of offering human biology to the ancients, goes back to the dawn of mankind, now made official in the United States of America,[Note 5] with cooperation of the US government as of 1954. The United States of America sold its soul upon execution of the atomic bombings of Hiroshima and Nagasaki, ten years prior, in 1945.
Notes
The Empire
Main: Project Aquarius
Most of the Earth nations are in servitude to the Empire. In the coming years, anyone not on board, and any Rebels—will be weeded out. The Nordic forces are preparing for what is termed "ascension". Before the day of reckoning—you may opt to be "enlightened" in order to join the Empire. If you choose not to be "enlightened", you will be "left behind". Many people are gathering today in preparation for "ascension". Present-day followers are wooed into believing that they will reach a higher and most heavenly dimension. They are urged to prepare now before the coming day of the "death star", or the "death of the sun"—meaning that the Age of Pisces will soon end. Pisces is represented by the fish

, a common symbol of Christianity. The end of Pisces, means the end of Christianity—the 'death of a star'. Enter the "Age of Aquarius" (Named in the 1977 Vrillon Message).
Resources
Community content is available under
CC-BY-SA
unless otherwise noted.