Jurassic World: Dominion Dominates Fandom Wikis - The Loop
Play Sound
Philip Schneider (23 April 1947—10 January 1996[1][2]) was a lecturer on Dulce Base. He had been on lecture tour for two years, prior to his death, speaking out about government cover-ups, black projects and UFO phenomena.[1] His motivation to speak out in public, may have been from the death of his friend, Ron Rummel,[3] publisher of Alien Digest, who died on 6th August, 1993, from allegedly having shot himself with a gun.[4] Based on the information given in the testimony of Cynthia Schneider Drayer, the date of death of Phil Schneider is thereabouts, on the same day as Karla Turner's death on 10 January 1996.
Background
[
]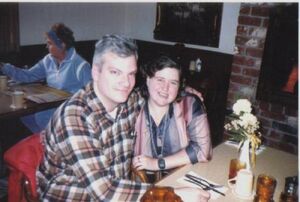 In 1987, Phil Schneider married Cynthia Marie Drayer Simon. They met in June 1986 at a meeting of the Oregon Agate and Mineral Society. Cynthia mentioned years later that Phil had so many interesting stories and so much information to share. Their marriage had suffered difficulties from Phil's health problems which contributed to their break up.[1]
Phil had multiple health concerns, such as chronic lower back pain, Osteoporosis, and Multiple Sclerosis. Occasionally, Phil had to use crutches, a body brace, leg braces, bladder bag, catheter, diapers and wheelchair.[1]
Two fingers were missing from his left hand. There was a scar that ran down from the top of his throat to below his belly button, and another scar that ran from under his ribs, side to side.[1]
Lecturer
[
]
Phil Schneider had been on lecture tour for two years, prior to his death, speaking out about government cover-ups, black projects and UFO phenomena.[1] In his wife's testimony, Cynthia believes the main reason why Philip began to lecture was due to the "murder" of his friend Ron Rummel. Ron was found in a park in Portland, Oregon in September 1993. The police ruled his death a "suicide" by having shot himself in the mouth. In the detective's report, there is blow-back blood on Ron's hand, but no blow-back blood on the gun.[3]
Rummel, Schneider, and a few others collaborated on a magazine project called Alien Digest. The magazine had gotten fairly wide circulation at the time when Ron Rummel was found dead in the park. Philip Schneider believed that his friend was murdered, and decided that it was time to get out in the open.[3]
Otto Schneider
[
]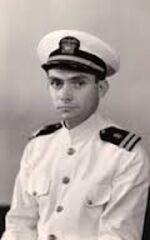 Otto Oscar Schneider, born in Germany on 22 January 1906 served as a U-Boat Captain for NS Germany during World War II. Schneider was repatriated into U.S. Naval Intelligence, during Operation Paperclip, and was used in helping to develop nuclear submarines.[5]
Otto settled in Bethesda, Montgomery County, Maryland, where he fathered Philip Schneider, on 23 April 1947.[6] Both father and son Schneiders died in the mid-1990s, about two and half years apart. Otto Schneider died 13 May 1993.[5]
Greada Treaty
[
]
The term "Greada Treaty" is attributed to Phil Schneider in naming the secret alien trade agreement made between the United States and an alien presence. No other independent sources use this name,[7] but the concept of an alien agreement was discussed in the 1988 paper, The Krill Report and Jason Bishop III's The Dulce Base.
Dulce Base
[
]
Dulce researchers
See TAL LeVesque article which determines that Jason Bishop III was not TAL, as some speculated.
Paul Bennewitz shown a light on Manzano Base in 1982, which turned out to be a confirmed US military installation by GlobalSecurity.org.[8] Bennewitz also determined another secret site, Dulce Base which he wrote about in Project Beta, but was discredited.
Dulce Base research and exposure circulated among UFO groups throughout the 1990s. The works of Jason Bishop III, Bill Hamilton, and TAL was under heavy scrutiny by several UFO communities. Philip Schneider's public claims came out in 1995.[9] Branton Group compiled Dulce research material, with commentary, into The Dulce Book, published in 1996.
Philip Schneider claimed to be an engineer who worked on several underground installations, including Dulce Base. He also claimed to have been one of the escapees of the 1979 Dulce Wars. Schneider alleged that a scar on his chest was from a radiation-weapon blast that occurred during his escape from Dulce Base in 1979. Some have confirmed that a large scar did indeed exist.[10] He believed that his cancer was caused from exposure to what he called "cobalt radiation".[11]
Although none of Philip Schneider's claims have ever been proven,[12] his public talks on Dulce Base may have been causing an upset in shadowy places, right at the exact time that Karla Turner was making public awareness of MKUltra programming.
Death
[
]
Phil Schneider had a 9mm handgun that he had borrowed to protect himself.[13] Schneider had often made public that he was marked for death. "If I ever 'commit suicide'," Schneider told a close friend, "I'll have been murdered." Schneider gave his last lecture in Denver, Colorado, two months before his alleged murder.[10]
On January 17, 1996, Philip Schneider was found dead in his Wilsonville, Oregon apartment. He had apparently been dead for several days.[13] His body was found in what appeared to be —in an unusual position. His feet were under the bed, his head was in a wheelchair seat at an unusual angle and the rest of his body was on the floor, hands by his side. Blood was found on the floor near his wheelchair but no blood was found on his wheelchair. No wounds were on his body to account for the blood. No suicide note was ever found.[1]
Schneider's death was considered to be caused by a heart attack, but later analysis showed impressions around his neck-the width of a catheter tube, that suggested his death was motivated by strangulation. His surviving wife, Cynthia, has stated that US intelligence operatives had thoroughly searched their home shortly after his death and made off with at least a third of the family photographs.[10] Cynthia also observed that Phil's lecture material and notes for his unwritten book on UFOs also went missing from his apartment, yet money and valuables remained untouched.[1]
Cynthia was told by Detective Randy Harris that there were marks on Phil's neck. An autopsy report revealed that a rubber hose was tied around Phil's neck three times and then tied in a knot, which blocked blood-flow to his head resulting in him becoming unconscious and then dying.[1]
The official cause of death was "suicide". The medical examiner took blood and urine samples at the autopsy but refused to analyze them, saying that the Clackamas County Coroner's Office would not "waste their money on a suicide". Samples were kept for twelve months. When interested parties asked for these samples to be sent to an independent lab eleven months later, they were "missing" and presumed "destroyed".[13]
In the testimony of Cynthia Schneider Drayer:
"Philip had missing fingers on his left hand, and limited motion in his shoulders. I believe that it was physically impossible for Philip to have held the rubber hose in his left hand with missing fingers and then wrap the hose three times with shoulders that had limited motion. In order to end up where his body was, he had to sit on the edge of his bed, wrap the hose around his neck, slowly and painfully strangle to death, and fallen head first into a wheel chair."
Mark Rufener, a long time friend of Phil said:
"I saw Philip the weekend of January 6 and 7th 1996. We were going to buy land in Colorado. We were excited because he was going to hire me to help write a book about his knowledge on UFOs and aliens, the One World Government, and the Black Budget. He did not commit suicide, he was murdered and it was made to look like a suicide."[1]
Cynthia Drayer stated that "on 1/17/1996 I received a call that Philip was dead in his apartment and apparently had died up to a week before his body was discovered." This time frame places Schneider's death, thereabouts, on the same day as Karla Turner's unusual death on 10 January 1996.
Wraith
[
]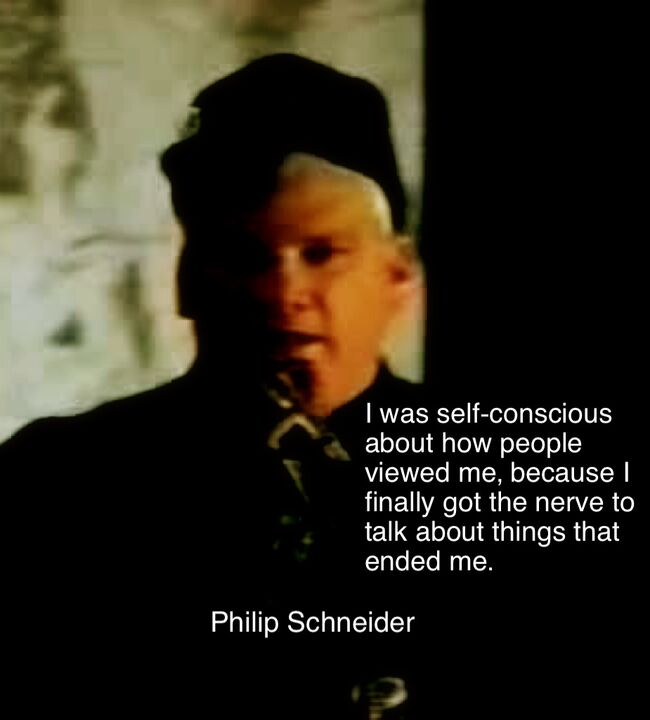 See also
[
]
Testimony of Cynthia Schneider Drayer
References
[
]
Resources
[
]