The Norway Spiral is an apparition that occurred over Norway's northern skies on December 9th 2009, on the eve that the President of the United States, Barack Obama, accepted the Nobel Peace Prize in Oslo, Norway.[1][2]
Appearance
Edit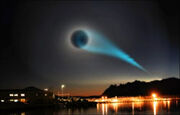 It was visible from, and photographed from, northern Norway and Sweden. Hundreds of calls flooded the Norwegian Meteorological Institute as residents wanted to know what they were seeing.[3]
According to early news reports coming out of Norway, a vast rapidly expanding "spiral" suddenly appeared in the pre-dawn skies over its northern-most town, a fishing center called "Tromso". Moments later, a corkscrewing "blue beam" seemed to emmanate from the exact center of the spiral toward the ground. As rapidly as the "glowing spiral" and central "beam" appeared, the bright core of the rapidly rotating spiral abruptly disappeared and immediately replaced by what was described as a pitch black, rapidly enlarging circle looking eerily like "an expanding black hole".[1]
Reject rocket research
Edit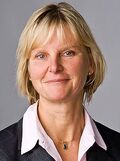 Many have speculated that the light resulted from a research rocket, possibly from Kiruna or Russia. Anna Rathsman of the Swedish Space Corporation in Kiruna rejected that a missile came from their center.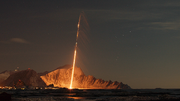 Andøya Space Center, who also confirmed that there had not been any launches Wednesday morning, thought that the mysterious giant spiral was a Russian rocket probably launched from a submarine in the White Sea. However, the Northern Fleet denied that such a thing should have happened.
"We have no information about such a thing, and have not seen anything like what you describe", said an anonymous spokesman for the Russian Northern Fleet told AP.[4]
After the Russian Navy initially denied that it was responsible, an abrupt public reversal was deliberated by the Russian Defense Ministry who suddenly claimed that this was, indeed, "a Russian rocket launch ..."[4]
According to Richard C. Hoagland, "This belated (and 180-degree) lagging Russian "admission," unfortunately, has all the appearances of a hastily-ordered cover-up..."[1]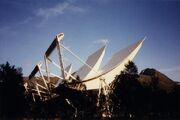 Just over the hill from Tromso, lies a high-tech Norwegian "HAARP antenna farm" called the EISCAT Ramfjordmoen facility. It is a space surveillance system, one of three incoherent scatter radar facilities.[5][6] It is specifically designed to broadcast powerful beams of microwave energy high into space thereby also creating HD/torsion side-effects in the Earth's highly-electrified upper "plasma" atmosphere (or possibly the ionosphere[1]). The facility is officially supported by Norway, Sweden, Finland, Japan, China, the United Kingdom and Germany. Interestingly Russia is also a contributor of operations. EISCAT Headquarters are also located in Kiruna.[6]
Red Square, Moscow
Edit
The Daily Mail reported that on the same night of the Norway Spiral, Dec. 9 to 10, hundreds of people spotted what appeared to be a triangular-shaped UFO flying in the skies above the Red Square in Moscow. The Daily Mail writes that two separate amateur videos were shot, one during the day and one at night, showing the same object in the sky.[7]
References
Edit
↑ Stewart, Will (9 December 2009). "Mystery as spiral blue light display hovers above Norway". Daily Mail, UK
↑ 4.0 4.1 The Russian Northern Fleet is not aware of the launch of rocket (9 Dec 2009, updated 12:40), by MARTHE HAUGDAL, OLE KRISTIAN STRØM and MATS BLEIKELIA
External links
Edit
Wikipedia
Edit
Community content is available under
CC-BY-SA
unless otherwise noted.