Moon pyramids is a comment in the book, The Roswell Incident (1980) by Charles Berlitz and William L. Moore, on p. 11—"Observations by both Russian and American astronauts of... "pyramids" on the moon."[2]
Reconnaissance
Apollo 8, Dec. 24, 1968, at 104 hours, Command Module Pilot James A. Lovell Jr. was on the back side of the Moon, the "far side", conducting a midcourse correction when a dialogue ensued with Houston Control:
Lovell: Houston to Apollo 8, over
Houston: Go ahead Apollo 8, loud and clear
Lovell: Roger — Please be informed, there is a [redacted].
Lovell then proceded to give coordinates and readings to Houston Control.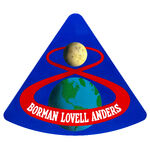 When Lovell proceeded to inform Houston of what he found, he put vocal stress on two words: (1) "Roger", denoting the fealing that "hey, I'm here, I found what you want. (2) "is", in the statement "there is a...", denoting that the subject being talked about was something already being anticipated or desired.
Lovell also referred to the subject in the singular, denoting that at his location of observation, there is only one point of interest.
The additional midcourse corrections that were scheduled, were now no longer needed.[3]
---

Apollo 17. NASA's photo reel Magazine 135/G (B&W) EVA-2, Frames 20533-20680 reveals "Santa Claus" on image AS17-135-20680 (OF300). The image stock was taken in 1972 by Apollo 17, a twelve-day mission to the Moon, and the last.
---
The official description given by NASA is "LRV Floor? Sunstruck."[4] Based on NASA's description, skeptics argue that the camera was aimed at the LRV floor during the entire sequence of frames, as one magazine was unloaded and the next was loaded.
Officially, the original unfiltered image below, NASA AS17-135-20680 (OF300), is looking at the floor of the Apollo 17 Lunar Roving Vehicle.
The original unfiltered NASA image AS17-135-20680 (OF300) shows geometric pyramids. There is not just one... but two visible forms, to the center, and to the left. But in the filtered 20680 image, a vignette effect was added, putting focus on the central pyramid and blocking the left geometric pyramid base.
A few other images surfaced, NASA altered (left) and Hubble (right) images. The NASA pyramid image depicts a pyramid covered over by moon dust, keeping an artificial geometric form. NASA presents the image as being a natural formation. The Hubble version in no way appears natural.
| | |
| --- | --- |
| NASA (Altered) | Hubble |
Coverup
NASA states emphatically: "Apollo 8 and later missions could not make observations about the Moon's space environment or complex geology, a gap that LRO and missions like Clementine, LADEE, GRAIL, ARTEMIS and M3 have been able to fill... None of the Apollo missions observed the Moon's poles, areas that have prompted a growing curiosity among lunar scientists."—NASA, Part 5: Apollo 8 and Beyond - The Next Epoch
NASA's comment denotes that the Apollo program had nothing to do with scientific research, but rather to secure the territory.
Contain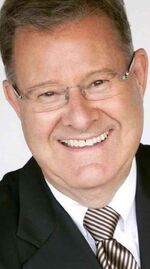 Lansing, Michigan—The bicyclist who died after a crash on Wednesday afternoon, 7 October 2018, was identified as Karl Wolfe, 74, of Lansing.[5]
Wolfe entered the southbound lane of North Triphammer Road when he was struck by a "tractor trailer" that was traveling south.[5]
Bangs Ambulance transported Wolfe to Cayuga Medical Center where he later died from injuries sustained in the crash, authorities said.[5]
No charges have been filed and the sheriff's office did not release the name of the "tractor trailer" driver.[5]
Karl Wolfe, former Air Force sergeant, under the Tactical Air Command at Langley Air Force Base in Virginia,[6] talked at the 2001 Disclosure Project event held at the National Press Club in Washington DC, organized by Steven Greer.[7] Wolfe's continued involvement in the Disclosure Project has caught attention.[8]
In a darkroom used for processing photos from the first lunar orbiter mission in 1966, a technician "pulled out one of these mosaics, and showed this base which had geometric shapes..." located on the back side of the moon.[7]
References
Community content is available under
CC-BY-SA
unless otherwise noted.