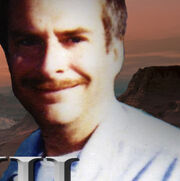 Mark Richards (1953— ) is a convicted murderer serving life without parole in California State Prison, Solano at Vacaville, California.[1] Richards authored The Battle at Dulce by Captain Mark Richards (2001)
Pendragon plot
[
]
Mark Richards, a contractor with money problems, was identified by authorities as the mastermind of the "Pendragon" plot. Richards' plan involved turning Marin County into King Arthur's court, with himself as king. In July 1982, Mark Richards ordered Crossan Hoover to kill Richard Baldwin because he was known to carry large amounts of cash, authorities said.
Crossan Hoover was 17 when he beat Richard Baldwin with a baseball bat and stabbed him with a screwdriver and chisel at the orders of Hoover's employer, Mark Richards, says The Seattle Times.
Mark Richards was convicted of murder in a separate trial and sentenced to life without parole.[2]
Authored work
[
]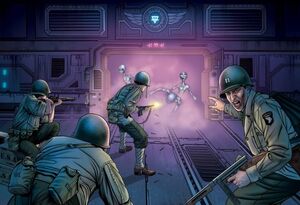 In 2001, Mark Richards wrote The Battle at Dulce by Captain Mark Richards, in which he is the protagonist of the story. Richard's novella is based on UFO researcher Paul Bennewitz's 1988 paper called "Project Beta", which details how to hypothetically infiltrate Dulce Base.[3]
Richard's story is a noble opera of infiltrating the Dulce Base, bypassing all security measures down to level 7, and freeing thousands of female abductees by loading them on underground shuttle-tubes that port to controlled evac points.[4]
In 2012, SkyMatters evaluated Battle at Dulce by Captain Mark Richards in the e-document From Pendragon to a Secret Space Program.
References
[
]