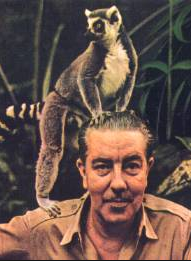 Ivan Terence Sanderson (January 30, 1911 – February 19, 1973) was an Ethonologist and a writer born in Edinburgh, Scotland. Sanderson was notable for pursuits in early cryptozoology, a concept popularized by Bernard Heuvelmans in the 1950s. Sanderson is even accredited for having coined the word 'cryptozoology' in the late 1940s. Influenced by Charles Fort, Sanderson's interests also broadened into paranormal phenomenon. In 1967, Sanderson founded the Society for the Investigation of the Unexplained (SITU).[1]
Background
Edit
Ivan Sanderson became famous for having claimed to see a Kongamato, a creature he described as "the Granddaddy of all bats". Sanderson conducted a number of expeditions into tropical areas, as a teenager and young man, in the 1920s and 1930s. He gained fame for his animal collecting as well as his popular writings on nature and travel.
During World War II, Sanderson worked for the British Naval Intelligence, in charge of counter-espionage against the Germans in the Caribbean, then for British Security Coordination, and finally finishing out the war as a press agent in New York City. Sanderson eventually made New York his home and became a naturalized U.S. citizen. In the 1960s Sanderson lived in Knowlton Township in northwestern New Jersey before moving to Manhattan. He died in 1973.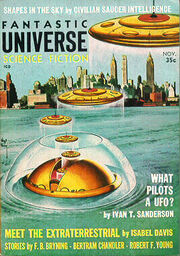 Paranormal
Edit
Ivan Sanderson was an early follower of Charles Fort. Later he became known for writings on topics such as cryptozoology, a word Sanderson coined in the early 1940s, with special attention to the search for lake monsters, sea serpents, Mokèlé-mbèmbé, giant penguins, Yeti, and Sasquatch.
Sanderson founded the Ivan T. Sanderson Foundation in August 1965 on his New Jersey property, which became the Society for the Investigation of the Unexplained (SITU) in 1967. SITU was a non-profit organization that investigated claims of strange phenomena ignored by mainstream science.
Ivan Sanderson mapped twelve areas on the Earth that are known to experience abnormal electromagnetic aberrations (shown by the map below):
Paranormal writings
Edit
Things and More Things (essays), combined and reprinted by Adventures Unlimited Press, 2007, paperback, ISBN 1-931882-78-9
Abominable Snowmen: Legend Come to Life: The Story Of Sub-Humans On Five Continents From The Early Ice Age Until Today, Adventures Unlimited Press, 2006, paperback, ISBN 1-931882-58-4.
Invisible Residents: The Reality of Underwater UFOs, with David Hatcher Childress, Adventures Unlimited Press, 2005, paperback, ISBN 1-931882-20-7.
Investigating the Unexplained (essays) Prentice Hall, 1972, hardback, ISBN 0-13-502229-0.
More Things (essays), Pyramid Books, 1969, paperback.
Uninvited Visitors: A Biologist Looks At UFOs, Cowles Education Corporation, 1967, hardback.
Things (essays), Pyramid Books, 1967, paperback.
References
Edit
↑ Wikipedia, Ivan T. Sanderson
Bibliography
Edit
Clark, Jerome, Unexplained! 347 Strange Sightings, Incredible Occurrences, and Puzzling Physical Phenomena; Detroit, Visible Ink Press; 1993, ISBN 0-8103-9436-7
Hall, Mark A., "The World of Ivan Sanderson," in Wonders 8 (3): 67–85 (in annual compilation), Sept. 2003
Hall, Mark A., "The Works of Ivan Terence Sanderson (1911–1973)," in Wonders 8 (3): 86–90 (in annual compilation), Sept. 2003
Story, Ronald, "Sanderson, Ivan T[erence]" pages 315-317 in The Encyclopedia of UFOs, Ronald Story, editor; Garden City: Doubleday & Company, Inc, 1980, ISBN 0-385-13677-3
Community content is available under
CC-BY-SA
unless otherwise noted.