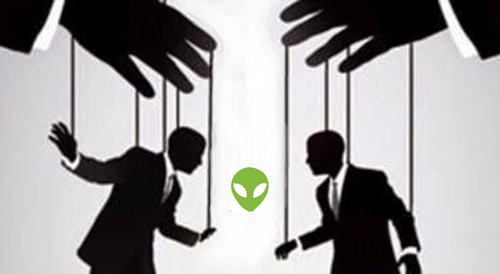 Government shadows are alleged groups within big government that are conflicted with one another, just as political parties are not eye-to-eye, so is the "shadow government".
Shadows in the USA
Edit
The shadows in the US government had blossomed with Eisenhower's Military–Industrial Complex, followed by an ever changing Majestic 12, to rumors of the Illuminati reborn, to Michael Kruvante's cabal,[1] to David Wilcock's "Alliance". Some believe that all of these are one in the same group that make up the Shadow government, while others believe that these groups are divided amongst themselves—those who have sided with the alien presence, and those who resist.[2]
References
Edit
↑ Nexus Magazine, Volume 5, Number 3 - (April - May 1998), Inside Revelations of the UFO Cover-Up, by Richard Boylan
↑ Project 1947, UFOs: GOVERNMENT INVOLVEMENT, SECRECY, AND DOCUMENTS, by Barry Greenwood
Community content is available under
CC-BY-SA
unless otherwise noted.