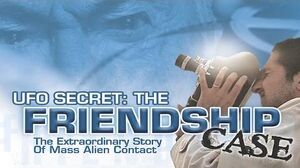 The Friendship Case (Ita. Amicizia "friendship") is an alien contact case that began in 1956 in Europe, involving many hundreds of people in several countries.[1]
Main: W56
The Friendship Case took place in Pescara, Italy. Writer Bruno Samaciccia was considered the main contactee. Also included were Stefano Breccia, Gaspare De Lama and his wife Mirella. Breccia's respected status in academia and science inspired Gaspare to come forward with his story. Bruno referred to the human-like beings, with whom he made contact, as the W56.[2]
The W56 are a group of beings who have been on Earth for millennia. They are scientifically and spiritually advanced. They can project themselves either tall or small, ranging from one to six meters in height and appearing a lot like humans. They identified themselves as the Akrij.[2]
Main: Akrij
Contactees, many being scientists, were in regular communication with a group of benevolent human-like beings who called themselves the Akrij. They primarily operated out of underground and underwater bases. Although hundreds of clear photographs, movie sequences and tape recordings emerged, showing a variety of alien craft and even some of their crew, the case was little known, even in the UFO community. The primary reason for the high level of secrecy was that the case was continuing and many of those involved wanted to remain incognito.[1]
Disclosure
Edit
In 2009, engineer and university professor Stefano Breccia broke the silence and openly spoke about the "Friendship Case". Breccia's involvement with these beings and with the principal humans involved, had been deep and lasted many years. Breccia had formed a close personal friendship with some of the beings. As an engineer he was naturally interested in their technology and studied it up-close. On at least one occasion he flew in one of the Akrij craft for some 90 minutes and observed its functions.[1]
References
Edit
↑ 1.0 1.1 1.2 UFO Digest, Alien propulsion details revealed, (2013) by Warren P Aston
↑ 2.0 2.1 in5d, The Friendship Case, Evidence of Extraterrestrial Contact?, (2016) by Wes Annac
Community content is available under
CC-BY-SA
unless otherwise noted.