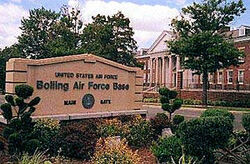 Bolling AFB, now Joint Base Anacostia–Bolling as of 2010, is located in Southwest, Washington, D.C..[1] Bolling has been a property of the Department of Defense (DOD) asset since 1917. The base began near Anacostia in 1918, as the only military airfield near the United States Capitol.[2] It is claimed that all "Project Serpo" files and materials are stored at Bolling.[3]
As Anonymous had been releasing Serpo information to Victor Martinez, and was being posted online in early November 2005,[4] the Base Realignment and Closure Commission made a recommendation to congressional legislation, in 2005, to consoldate Bolling AFB. The legislation ordered the consolidation of Naval Support Facility Anacostia (NSF) and Bolling Air Force Base (BAFB), which were adjoining, but separate military installations, into a single joint base, one of twelve formed in the country as a result of the law.[5]
References
Edit
Community content is available under
CC-BY-SA
unless otherwise noted.