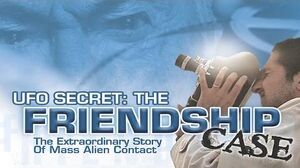 Akrij, meaning "Sages", are beings who have been on Earth for millennia. In the Friendship Case, the Akrij who appeared to the Italian team in 1956 were codenamed W56.[1] Fabio Siciliano and Stefano Breccia are researchers in the etymology of Akrij.[2]

In Egyptian mythology, the Akriw are nine beings or dieties of Egypt who are represented as the lion guarding "the entrance door" while the sun is out during the night.[3]
In the Egyptian hieroglyph AKRIW, the snake glyph generally means "wisdom". The transliterated "W" makes a 'u' sound that gives the expression its plural sense. The script refers to an abstract or collective concept that is "neutral",[2] but there is also an inference of deities having "male" and "female" counterparts. Therefore, Akriw can be translated as "wise ones".
In the Egyptian Book of the Dead (Theban) an Italian translation (by Kolpaktchy - Ed. Ceschina, Milan) chapter CLIII translates "fishermen Spirits" (as they "fished" with their networks the souls of the dead):
I know the fishermen Spirits who tend their nets. The gods Akeru, ancestors of the Akhabiu is their name.
or...
I know the name of these Spirits hunters and fishermen: "The ancestors of Akeru of Ra"
"Akeru" is considered a homophone of Akriw.[2]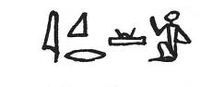 "A Concise Dictionary of Middle Egyptian" gives the name "aker" (singular, neutral) as a deity's name, the earth itself; the plural divinity of the earth". Faulkner gives this word to mean "trustworthy person".[2]

The "Grammaire de l'EGYPTIEN Classique" by G. Lefebvre, also gives the word aker, in the short vocabulary, with the meaning "excellence."
In sanscrit, Akhrij is also a neutral plural nominative, which is customary for the gods of Hindu. It is often translated as "wise men".[2]

Alternatively, the Egyptian phoneme "kh" has a clear differentiation compared to Hindi, and can be taken to mean "enemies".[2]
In the Quran, Sura 14.5 appears the Arabic word, Akhrij (Kamu [lk]) keluarkanlah (kt perintah). The definition is unclear, but could be taken to mean "peace", however not in the greeting sense.[2]
References
Edit
↑ 2.0 2.1 2.2 2.3 2.4 2.5 2.6 Akrij, An Etymological Excursus 2017, by Stefano Breccia
↑

Budge. "The Gods of the Egyptians", Vol. II, p. 98
Community content is available under
CC-BY-SA
unless otherwise noted.